Right Respecting Schools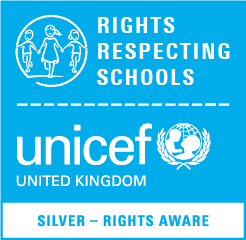 Mount St. Catherines Primary School is a 'Rights Respecting School'. This means we are committed to ensuring that pupils understand their rights, receive their rights and know how to campaign for their own rights and the rights of others.
We are working towards the highest level of the award, 'Gold:Rights Respecting' .
All children under the age of 18 are 'Rights Holders'. Their rights are found in the United Nations Convention on the Rights of the Child.
Duty bearers are the adults who are responsible for ensuring children receive their rights. This includes parents and care-givers, the government and those who are employed by the government (teachers, police, health care workers etc.). All adults associated with our school are duty bearers.
Our Rights Respecting School work is led by a 'Steering Group'. This is made up of one pupil from each class in Key Stage 1 and 2 and adults representing all parts of our school community.
You can keep up to date with the work we are doing within our school and community on our news feed below and on the homepage.
Mount St Catherines Primary School, Windmill Hill, Armagh, County Armagh, BT60 4BR
Phone: 028 3752 2241